FRENO LINKBOLT Features & Specifications
Strong Compact Type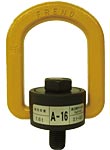 Higher working load limit (WLL) compared to a conventional eye bolt of the same bolt size, therefore requires smaller thread hole diameters.
Thread holes can be processed easier and choosing the position of thread holes becomes more convenient.
light, compact design
Available in bolt sizes M8 (0.3t) to M48 (15.0 t)
>>>Working load limits according to lifting method
JIS Eye Bolt Corresponding Type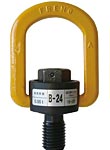 This type has the same bolt sizes and strength as a conventional JIS (Japanese Industrial Standard) eye bolt
It can be attached to the same threads you use for conventional eye bolts and - because of its rotating link - increases lifting safety.
Available in bolt sizes M64 (9.0t) to M100 (20.0 t).
For threads smaller than M64 please use Freno Linkbolt A Type.
>>>Working load limits according to lifting method